I promised almost a full week ago that I would share photos of our new kitchen with you.
Unfortunately, something (which I admit I do not fully understand) happened last week with my new kitchen designs 2013 2018 hosting provider, and my blog has been down since then. After much pleading and yelling and carrying on like any Southern gal I know can do, my blog finally came back up yesterday.
I've also been cleaning a full trailer load of reclaimed beadboard for, scheduled to begin next week.
Also, why does this always happen when you're extra busy? I came down with food poisoning last Friday which promptly sent me right straight to bed.
Thankfully, I am now feeling more like myself again.
So, those three reasons prevented me from sharing my new, vintage kitchen with you until now. I hate that I couldn't be more prompt, but you knew I wouldn't forget about you. Or, let's say I hope you know that.
Enough about me and my woes. Here are the photos I promised you!
This is what you would see if you came into our home from our back door through into the kitchen.
Notice all the drawers?
Oh, and I'm so proud at how the floors turned out!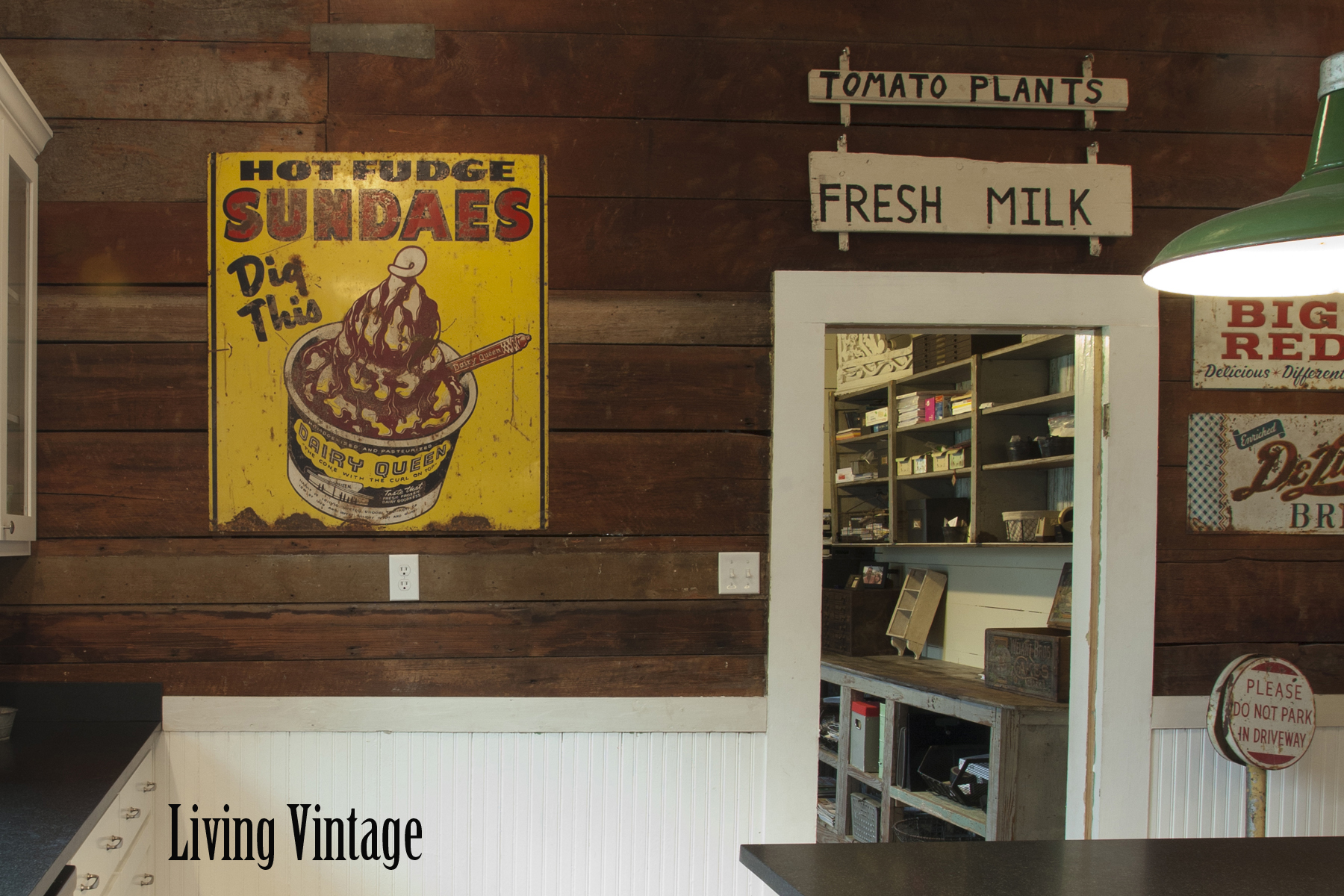 I love all of my old signs, because of their graphics and the memories and feelings that evoke.
Three of my favorites have to be my Dairy Queen sign and the two above the door.
I bought the two-sided DQ sign (there's a picture of a milkshake on the othe side) at an antique store in Buda, Texas years ago. It's a nod to when I worked at a Dairy Queen during high school.
The tomato plants and fresh milk signs I scooped up at the the minute I saw them. My husband and I were dating at the time, but I knew even then that the relationship was promising and the fruit and beverage were two of his favorite foods.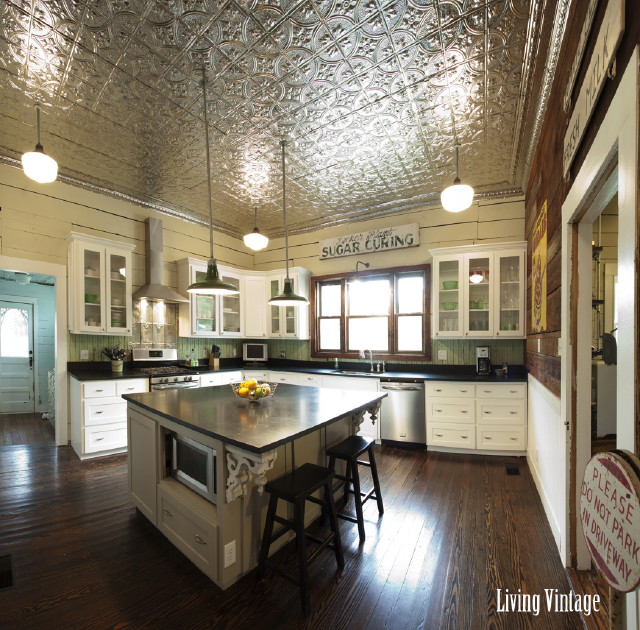 This is a view of our kitchen from the doorway leading into our dogtrot.
We stained the window and trim a dark brown to frame the view and draw the eye out.
(Ironically, I read in this month's Better Homes & Gardens magazine. Am I smart or what? Ha!)
We bought the vintage "Locker Plant Sugar Curing" sign over the window at a.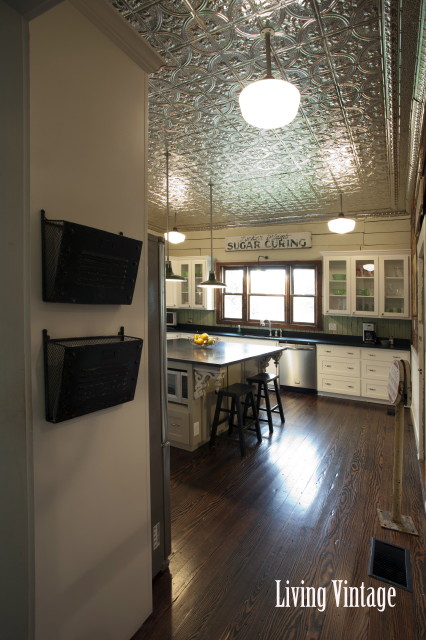 I bought the two metal cubbies you see on the left at. Although they're not vintage, they look like it, and I'm always looking for a way to incorporate industrial touches. I use them to organize recipes I want to try.
You also get a really good view at our.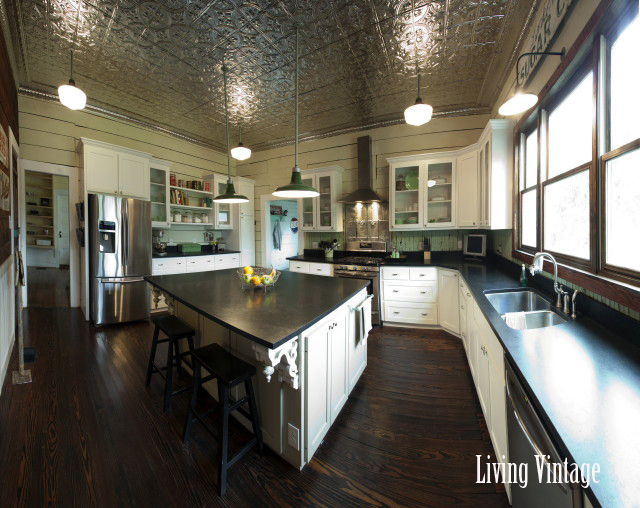 Here's a view from the opposite direction: looking towards the dogtrot. To the left of the range is.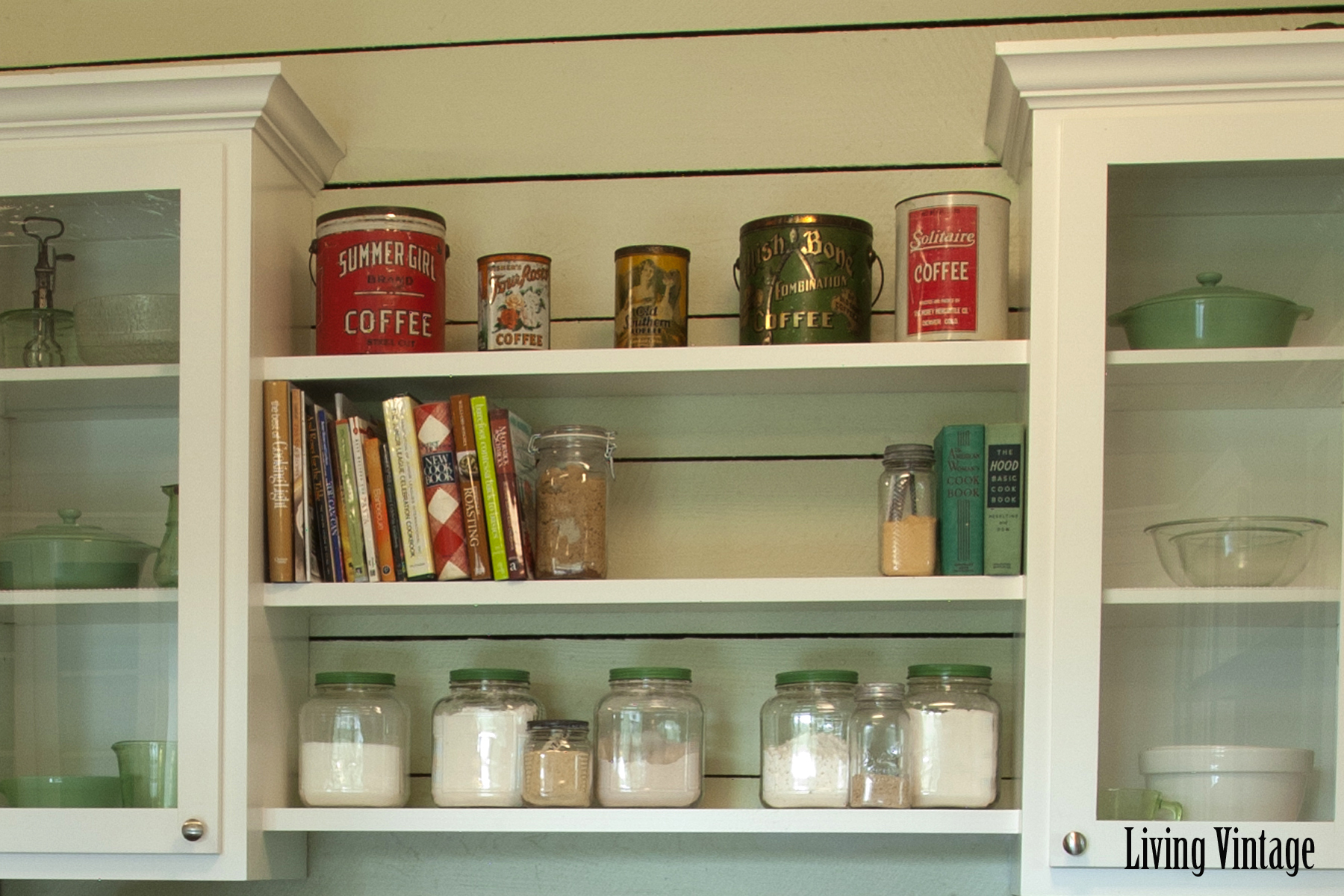 Of course, I'm always looking for a way to incorporate true vintage elements.
One thing I thoroughly enjoyed at my Austin kitchen was a small section of open shelving that I used to display jars of cooking ingredients, recipe books, and my small collection of vintage coffee tins.
I definitely wanted to copy that look (and functionality) at our home here.
(I still haven't found all of my recipe books which I know are lurking in some box in our garage.)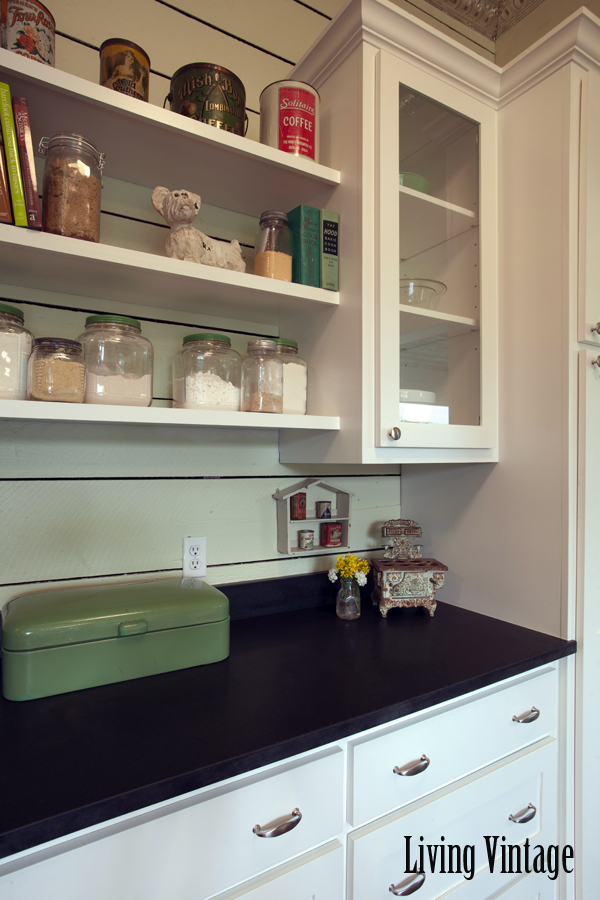 The child's stove is vintage as are the vintage spice cans and tiny shelf.
The green bread box is also vintage — we bought it at a junk store in Rusk that opens up once a month or so.
You know I adore my made from old reclaimed beadboard and roof tins.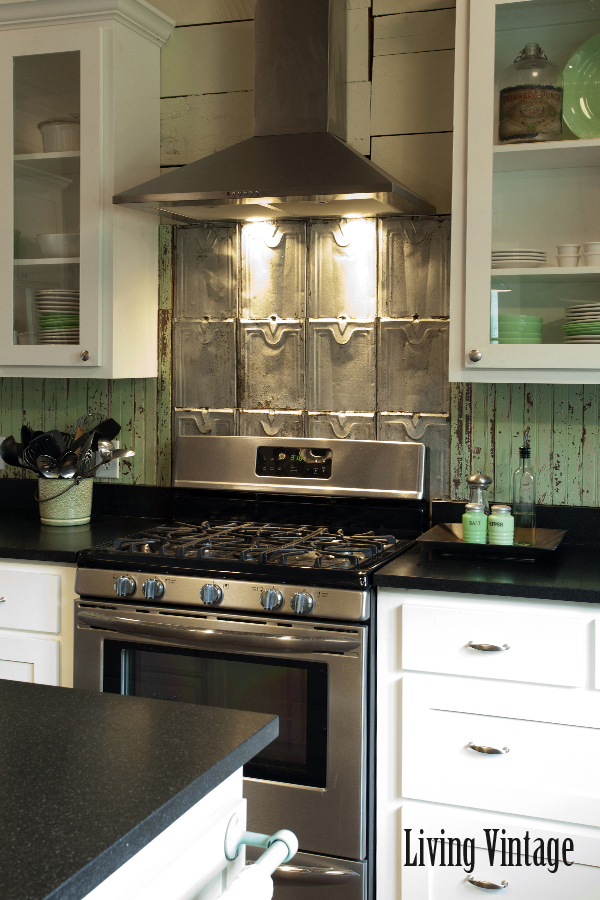 I use an old bucket for cooking utensils.
You can catch a glimpse of the jadeite that I collect.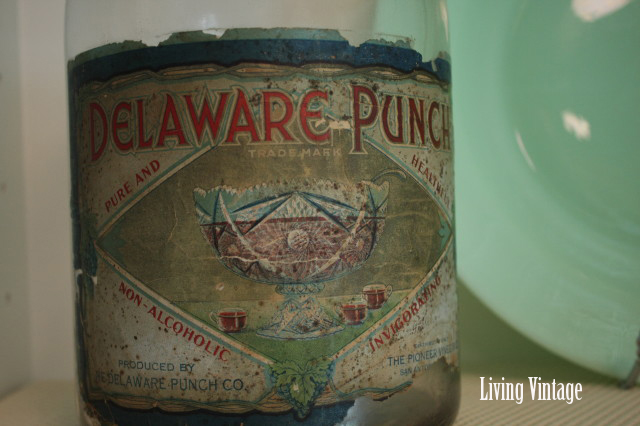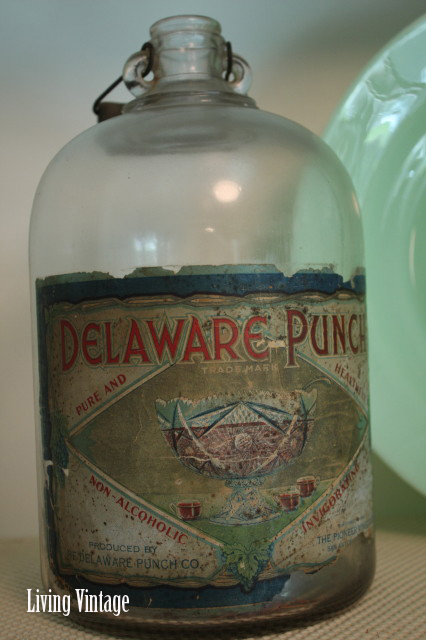 The old bottle to the right of the vent hood is a wonderful old Delaware Punch bottle. It has such pretty green and blue graphics. I've owned it for years and years.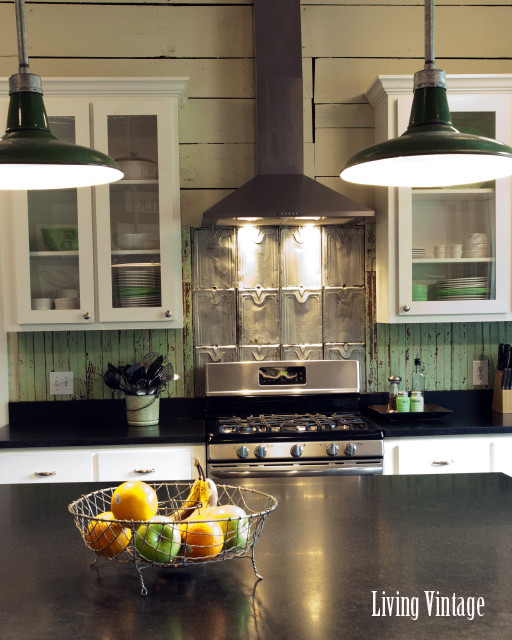 We chose black honed granite for our kitchen. I don't like the shiny look of polished granite.
I almost chose marble because I love it so, but I was afraid of it staining and etching.
I'm happy with the black — it's very reminiscent of, just a different material.
The wire contraption on the island that we use to contain fresh fruits and vegetables is an old dish drainer in a funky round shape.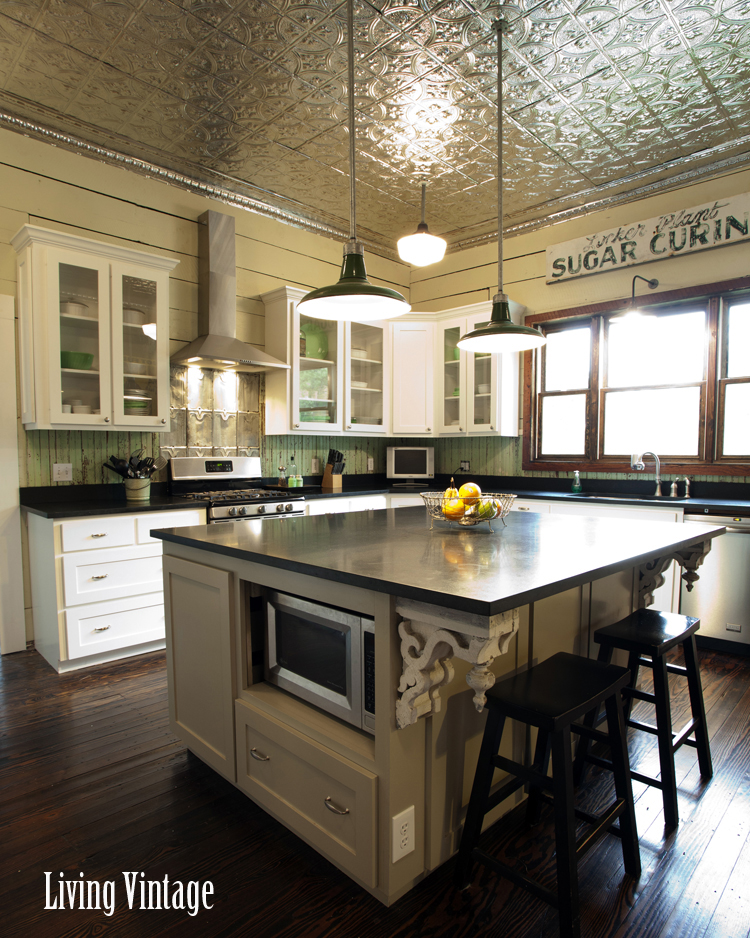 I love my island. Not only does it provide ample workspace for a two-cook kitchen, it has a large amount of storage: 10(!) drawers and 3 "standard" cabinets with doors.
(You can see most of the drawers in the first photo above.)
Also, we specifically designed it so that the microwave was somewhat hidden from view. Who wants to look at and clean around a large appliance on their countertop? Certainly not me.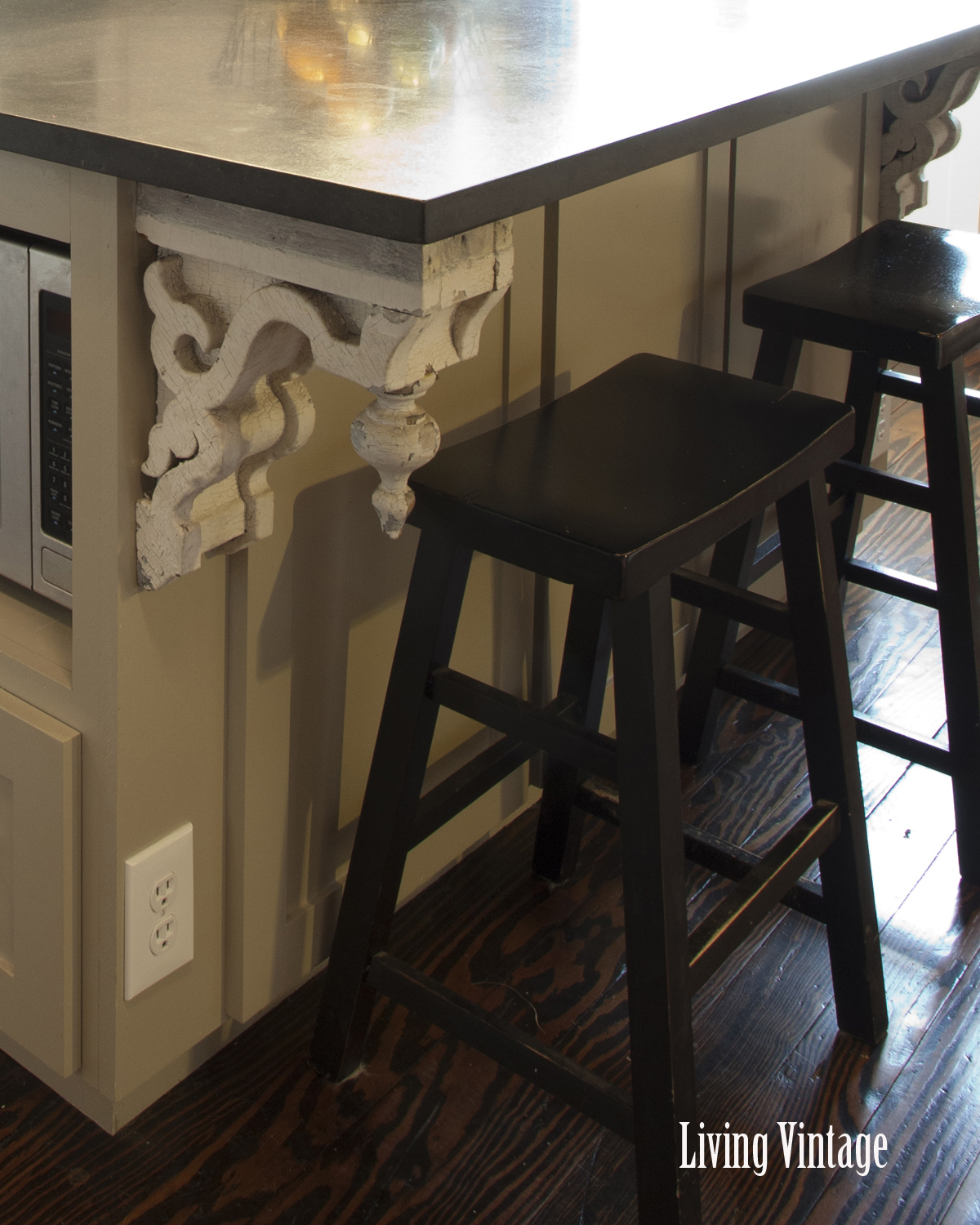 To add age and character, we installed two old corbels under the island overhang.
I have owned these corbels for many years, and I just love them. They are just the right size and heft for using in all sorts of places.
They were once mounted in the wide doorway between the kitchen and living room in my old home in Austin. (You can see them in.)
We left them when we sold the house, but the new owners are over 6 feet tall. They complained that they kept hitting their heads on them, so they called us and said we could come and get them!
Happy dance! I was delighted to get them back.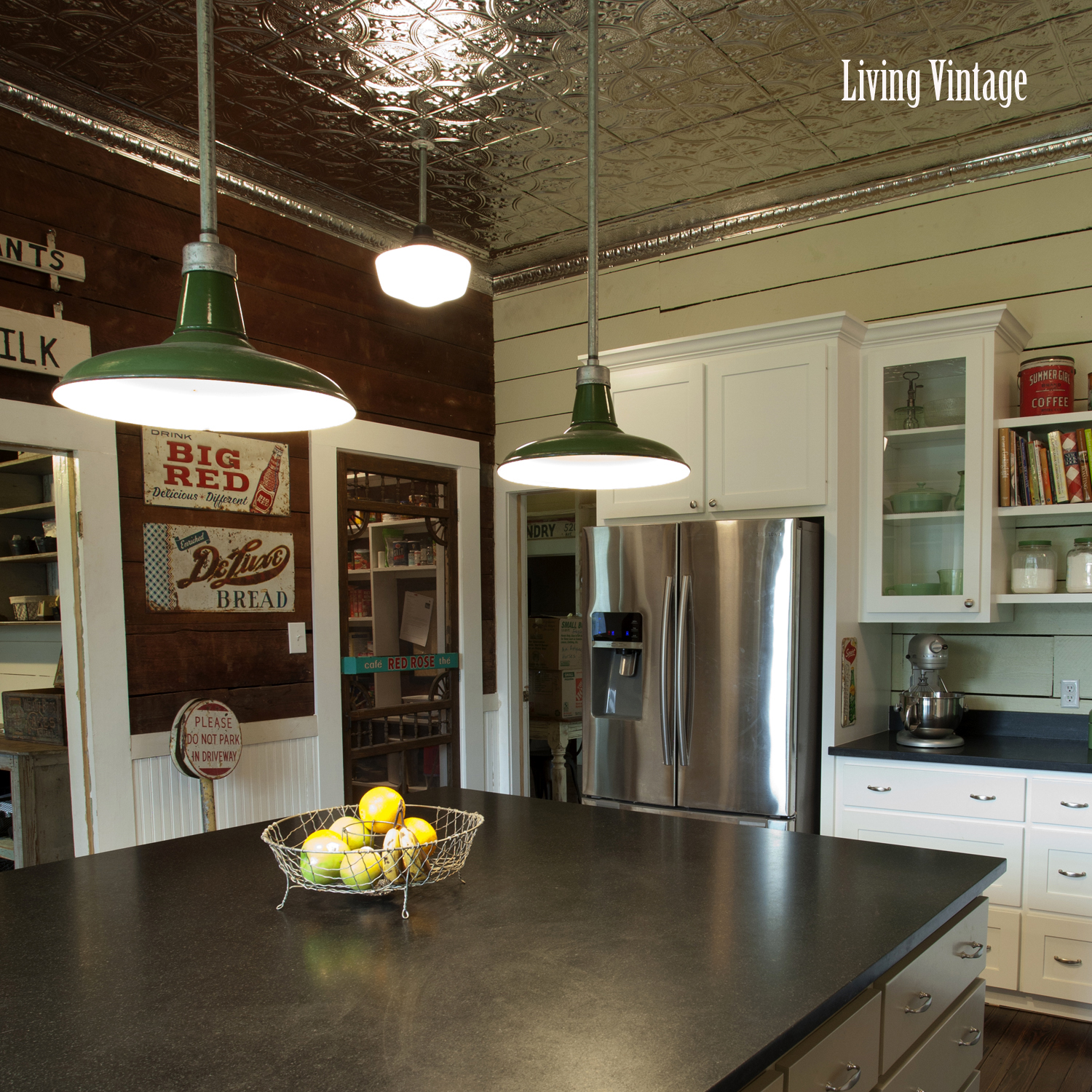 This photo shows you the original unpainted wood walls against the wood walls I painted a yellow-y green. We intentionally left one wall unpainted because we didn't want to completely hide the original character of the old rough-sawn walls.
We bought the green light fixtures at the (my favorite antique show in the whole world).
We turned them into pendants. The down rods are made from plumbing pipe, another industrial touch that I really love.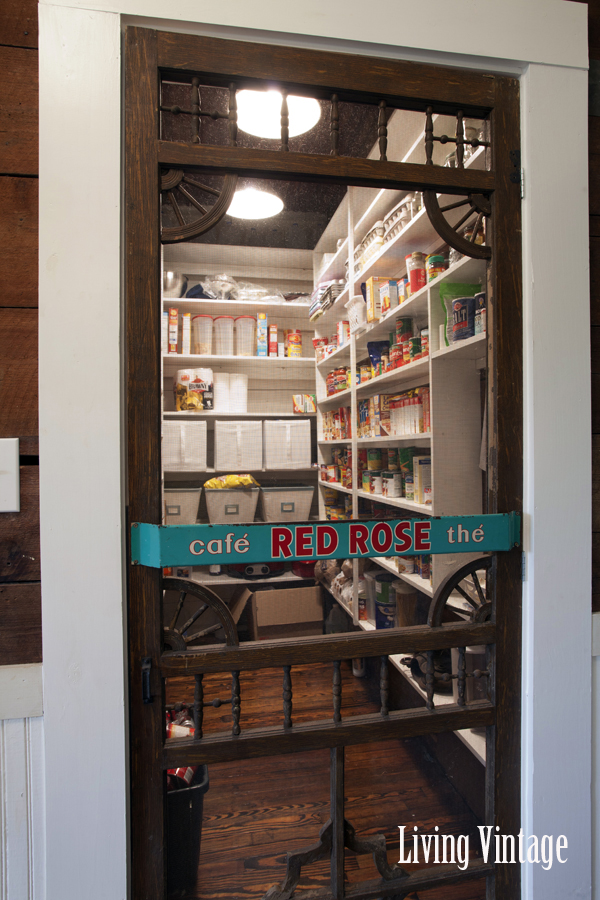 As, one of the things I HAD to have in this kitchen (because there was certainly enough square footage) was a walk-in pantry.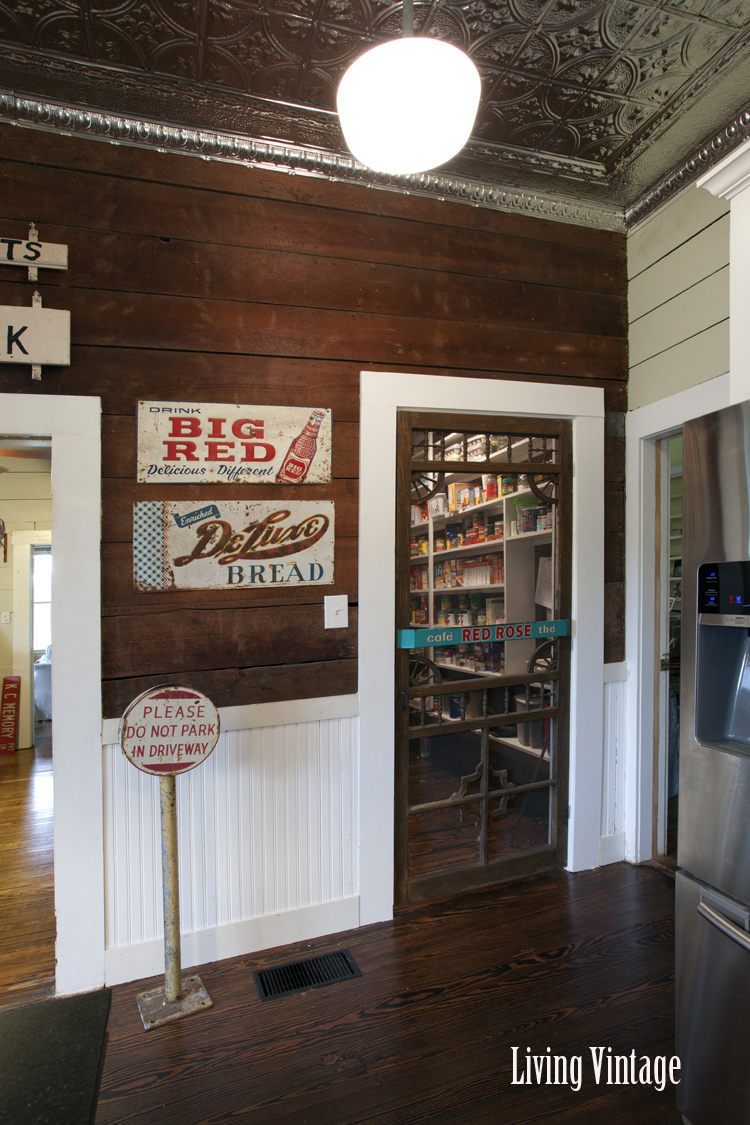 I think every lady who loves to cook deserves a walk-in pantry, don't you?
The Red Rose push sign is vintage. So is the old screen door that we bought at an in Gonzales.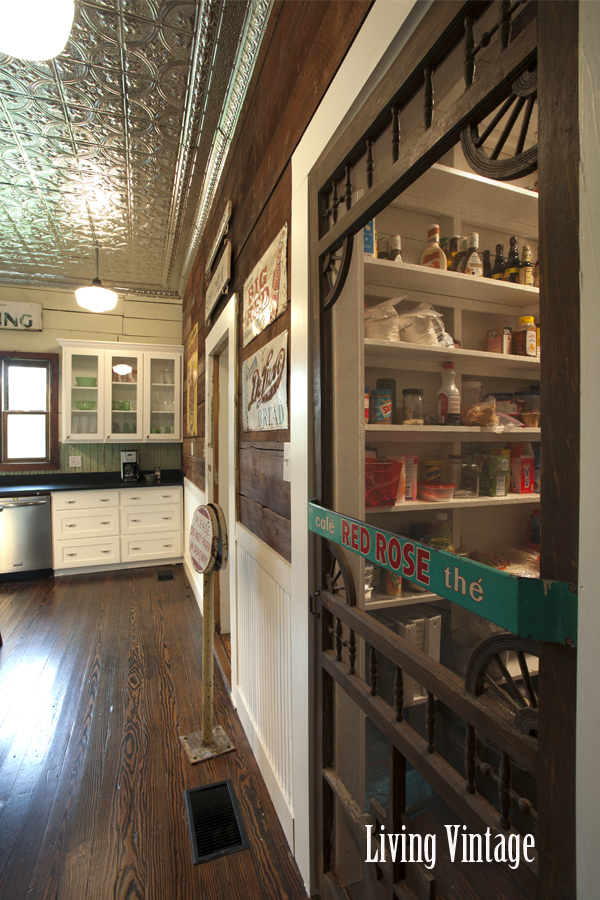 Old screen doors in fabulous condition are so hard to find, so we knew we wanted it when we saw it.
And, that, my wonderful followers is my new, vintage kitchen!
Remember what it looked like?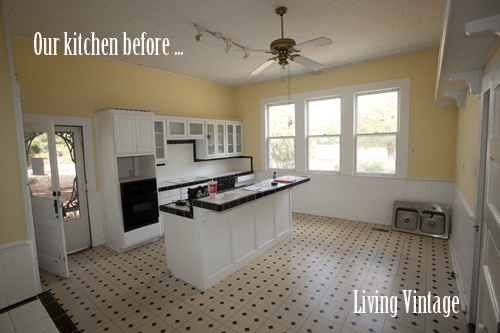 I think my new, vintage industrial kitchen is a huge improvement, don't you?
I hope you like it. Do let me know what you think!

I'm linking to these parties:
Amaze Me Monday @
Catch as Catch Can @ M
Clever Chicks Blog Hop @ The Chicken Chick
Friday's Five Features @
From the Farm Blog Hop @
Home{work} Wednesday @
Inspiration Monday @
Inspire Me Tuesday @
Link Party @
Make it Pretty Monday @
Market Yourself Monday @
Mod Mix Monday @
Monday Funday @
More the Merrier Monday @
Motivate Me Monday @
One Project at a Time @
Open House Party @
Shabbilicious Friday @
Share Your Creativity @
Silver Pennies Sundays @
Show Me What Ya Got
That DIY Party @
Think Pink Sunday @
Time To Sparkle @
Transformation Tuesday @
Transformation Thursday @
Treasure Hunt Thursday @
Tweak It Tuesday @
What We Wore, Read, and Made Wednesdays @
What's It Wednesday @
Wise Woman Linkup @
Wow Us Wednesdays @
Похожие новости
Bob braids with bangs 2018
My little pony dress up 2018
Women's leather coat styles for winter 2018
Haircut for indian men 2018
Royal blue wedding shoes with dress photo
Football uniforms design 2018
Ash blonde hair color pictures 2018
Graffiti word king photo
ШОКИРУЮЩИЕ НОВОСТИ